Galvanic nano-structures
Galvanic nano-structures
Metallic nano-wires and -tubes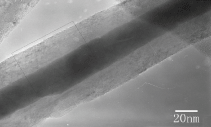 TEM picture of a copper-filled
carbon-nano-tube (CNT)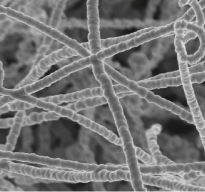 Nickel coated carbon-nano-tubes
(CNTs)
It is not only possible to change the geometry of carbon-based nanostructures, but also these materials can be used as basis/template to produce new modified structures. As a result of metal offered during the synthesis of carbon-nano-tubes, it is possible to end up with carbon-nano-tube-mantled metallic nano-wires. The geometry of these nano-wires is defined by the inner geometry of the carbon-nanostructures used.
Another modification-option is to coat the carbon-based-nanostructures - for example - with a metal. After evaporating the carbon all that is left is the metallic shell. A metal coated nano-tube, in this case, would leave a metal-nano-tube.
The non-carbon-based-nanostructures mentioned here offer access to many new fields of applications in nano-electronics and nano-biology.
Contact: Thorsten Staedler
Galvanic nano-composites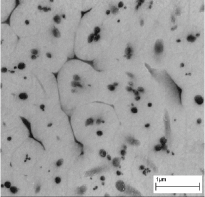 Cross-section Nickel-coated
carbon-nano-tubes (CNTs)
As mentioned in "Metallic nano-wires and -tubes" it is possible to metal-coat carbon-based nanostructures by a galvanic process (Ni-P-, Cu- or hard-chromium). Is the interspace between the nanostructures completly filled with metal one gets a metal/carbon-nanostructure composite with interesting physical properties.
The controlled deposition of such composites as well as their structural and mechanical properties are studied at the Chair of Surface and Materials Technology.
Contact: Thorsten Staedler