Composite Films
Composite films
Nano-structured diamond and diamond/carbide films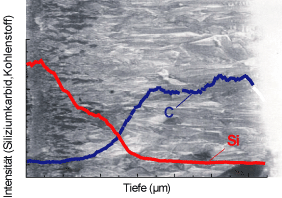 A diamond/SiC gradient layer acts as an adhesive agent
In order to make the vast potential of CVD-diamond films available for industrial applications, there is a high demand for nano-structured diamond/carbide composite layers. These layers have the power to overcome the adhesion problems of diamond-coatings, that exist especially in case of metallic substrates preventing many successful applications right now.
The main "hurdle", so far, has been the huge difference in thermal expansion coefficient between diamond film and substrate. Upon cooling (process-temperature down to RT) significant compressive stresses are introduced to the diamond film. Depending on substrate material and process temperature compressive stresses up to 10GPa are observed. A film delamination caused by these extremly high thermal stresses usually initiates at the cutting edge of the coated tool. As the carbide phase is as well-integrated into the diamond/amorphous carbon matrix as it shows very good adhesion to metallic substrates, a nano-structured diamond/carbide gradient layer is a promising candidate as an adhesive agent.
We succeeded in the CVD-based deposition of diamond/carbide gradient layers, that improved the adhesion of a diamond film on metallic substrates significantly. To date, successful attempts were carried out with ß-SiC and TiC. In future work other nano-composite layer systems, like diamond/WC and diamond/CrC, will be explored.
Contact: Xin Jiang
More pictures: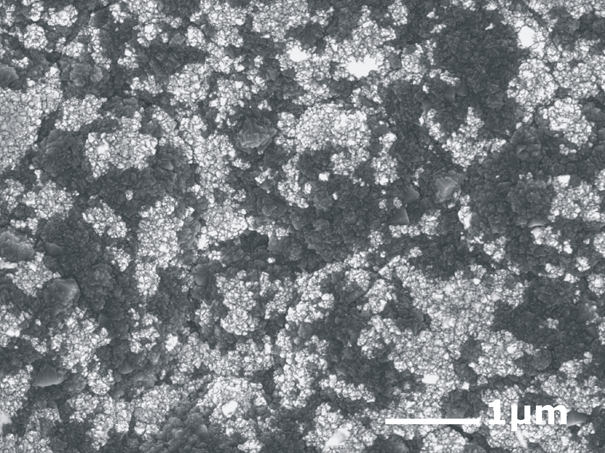 SEM morphology of a homogeneous nanocrystanlline diamond/β-SiC composite film deposited on Mo substrate with a constant tetramethylsilane (TMS) content of 0.05% in the gas phase.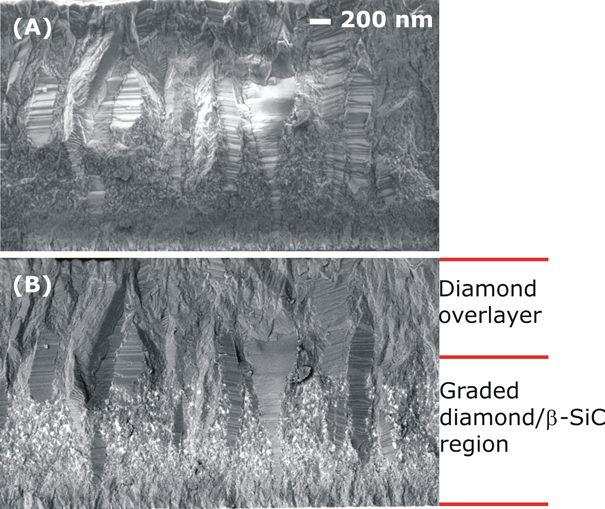 (A) SEM cross-sectional morphology of a nanocrystalline diamond/β–SiC gradient composite film and (B) the corresponding backscattered electron image. The brighter spot like regions represent β–SiC phase.