7. Design of Exitation Signals for Identification
Goals
Excitation of all relevant frequencies and amplitudes.
Uniform coverage of the input space with data.
Approach: OMNIPUS − Optimal Excitation Signal Generator
Building a signal generator, not restricted to a special signal type like APRBS, chirp, etc.
Model-free (only rough assumption about dominate pole required).
Advantages
Universally applicable.
Constraints can be incorporated easily (e.g. input or input rate limits).
Can be utilized for optimizing the data distribution of already existing measurements.
Can be extended to the multivariate case (multiple inputs).
Can be tailored to specific dynamic realizations (NARX, NOBF, NFIR).
Popular Excitation Signals
Interpretation of an Input Space in NARX Configuration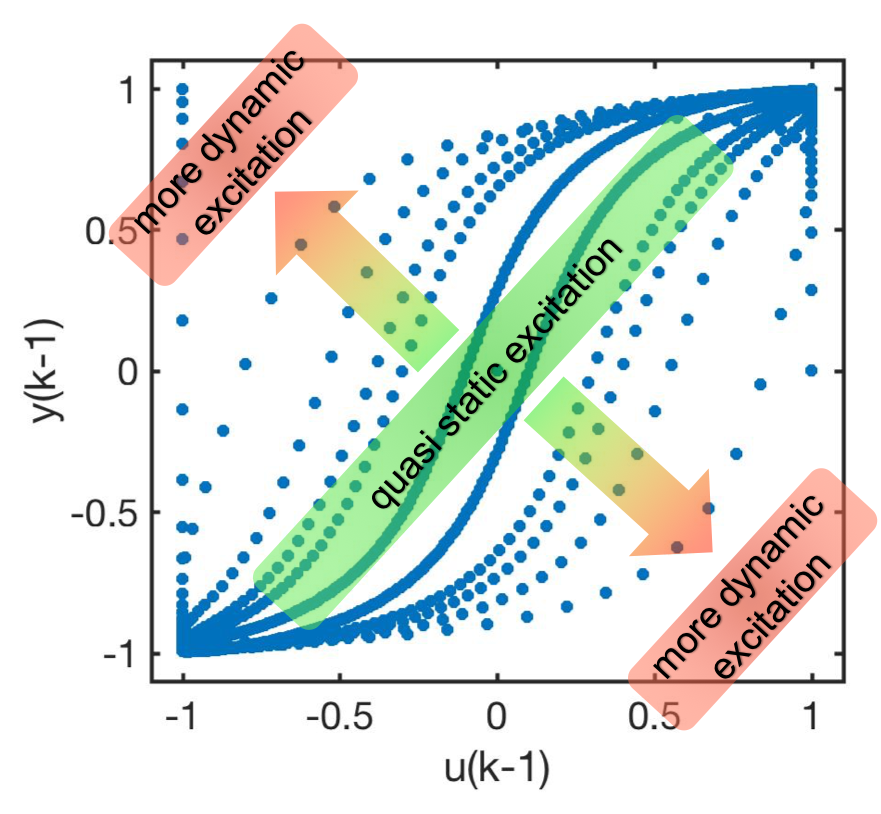 Classification of regions in the input space:
- Quasi-static region along the diagonal
- More dynamic excitation towards upper left and lower right corner
A good approximation of the system in high dynamic regions is necessary for high performance control (e.g.: MPC based)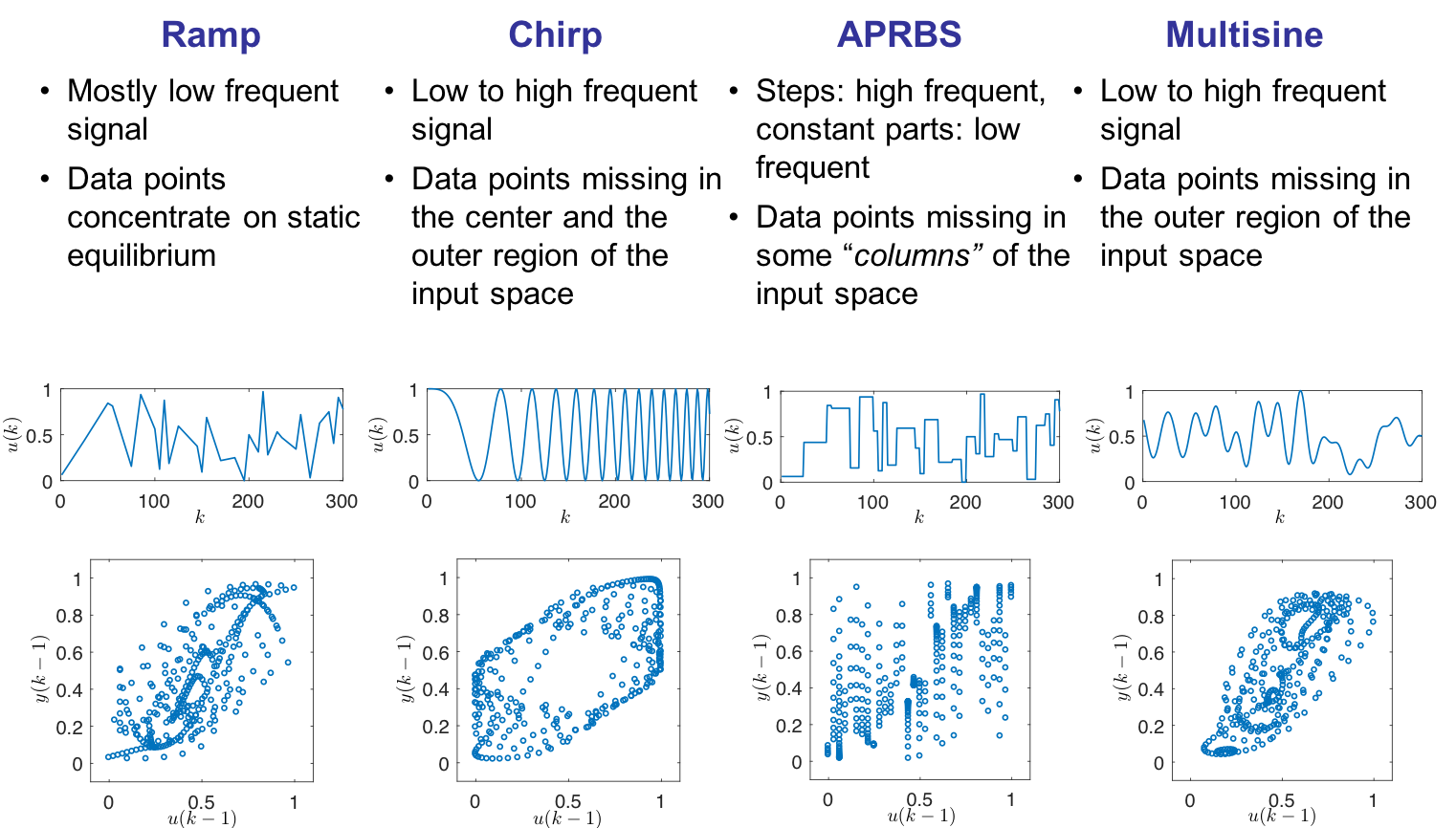 Optimized Excitation Signal
Optimization of Sequences
Instead of N-dimensional optimization of u(1), u(2), …, u(N):
Iterative optimization:
- Subsequent 2-dimensional optimizations
- Amplitude and sequence length as optimization parameters
⇒ Increased robustness
Scalable to multiple inputs
Optimization result:
OptiMized Nonlinear InPUt Signal (OMNIPUS)

Optimization of Sequences
Sequence with highest quality is appended to the signal
Quality function: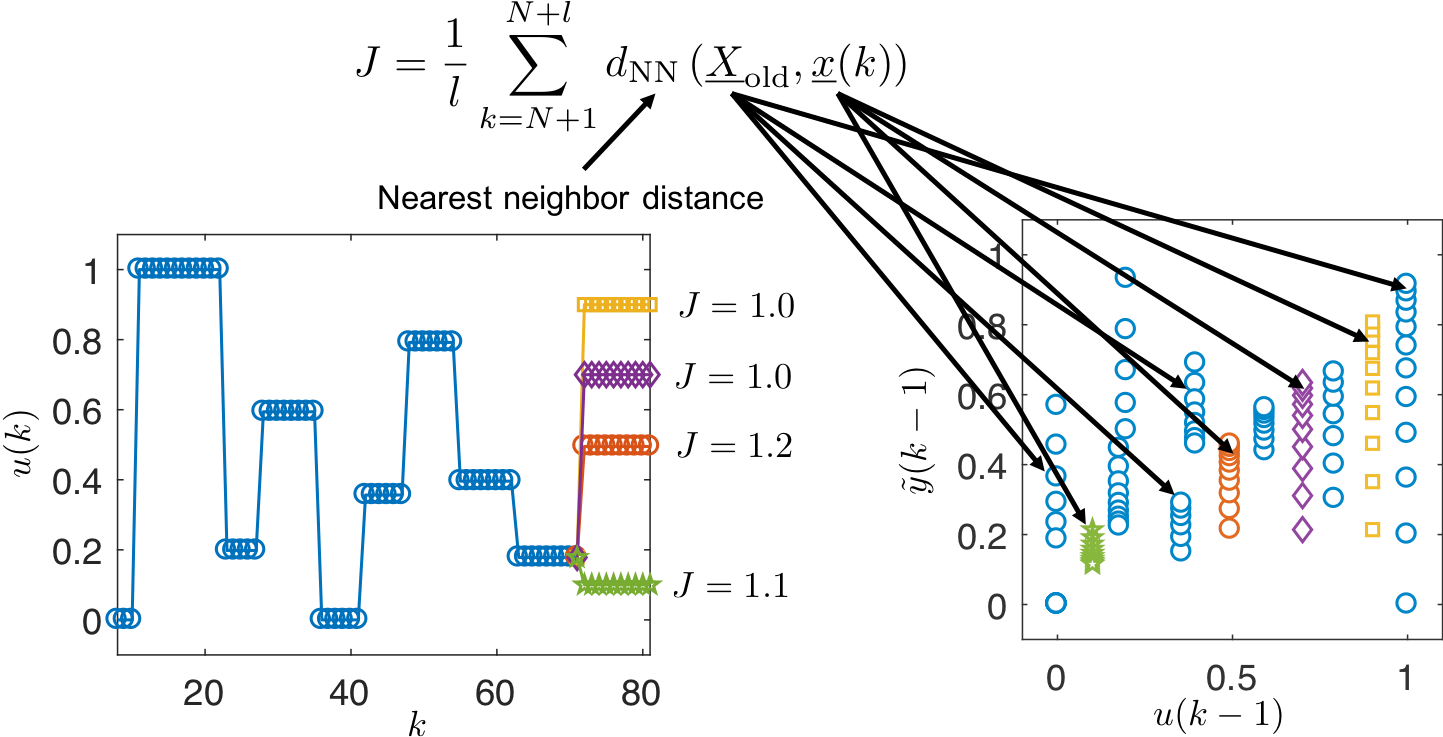 Iterative optimization
Taking the "old" signal into account
Future sequence are not considered in the optimizatio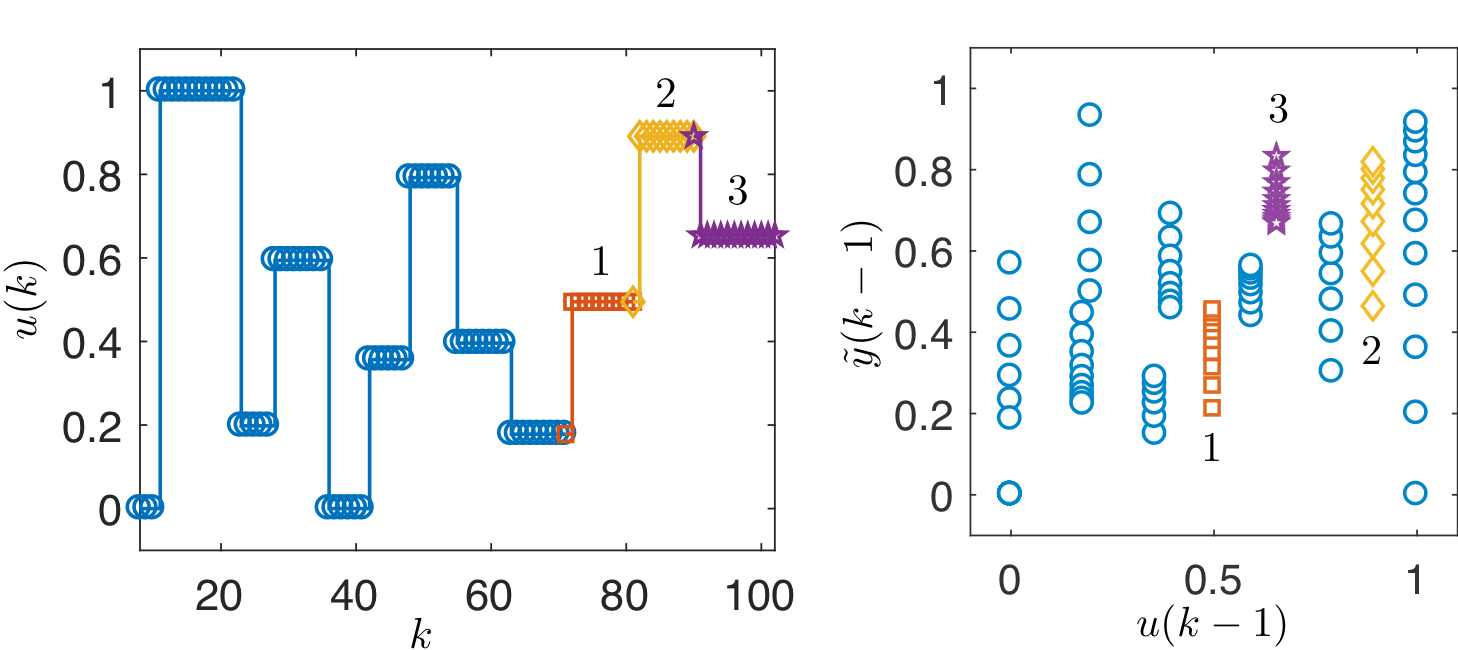 Implementation of Constraints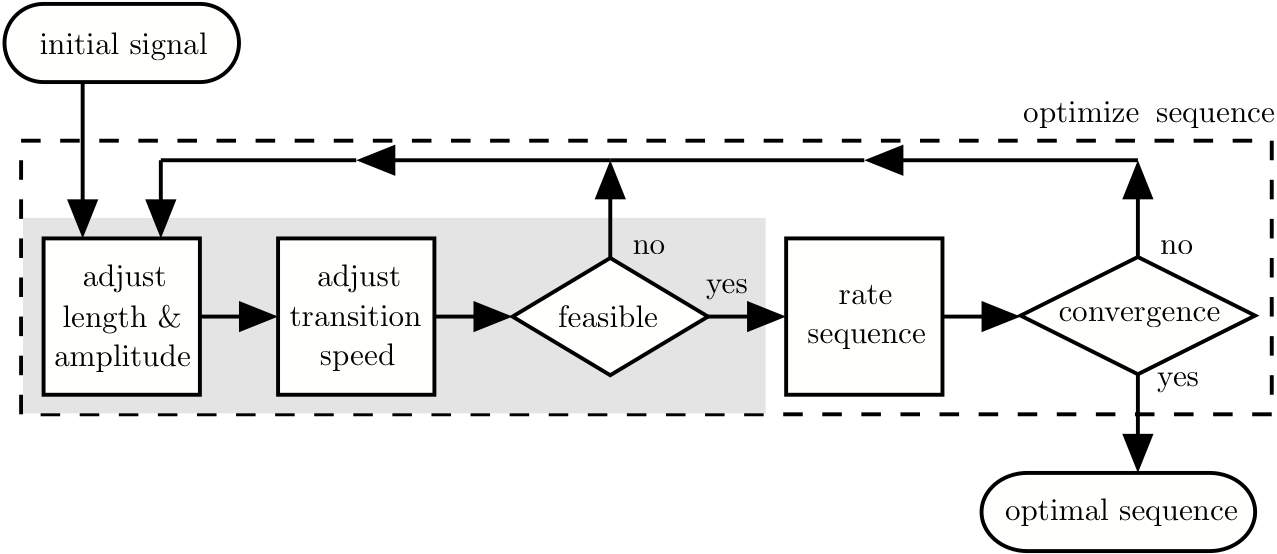 Most processes have input constraints:
- Amplitude constraints
- Velocity/Rate constraints
- Higher order constraints (acceleration constraints)
Gray shaded area highlights constraint handling
Checking of feasibility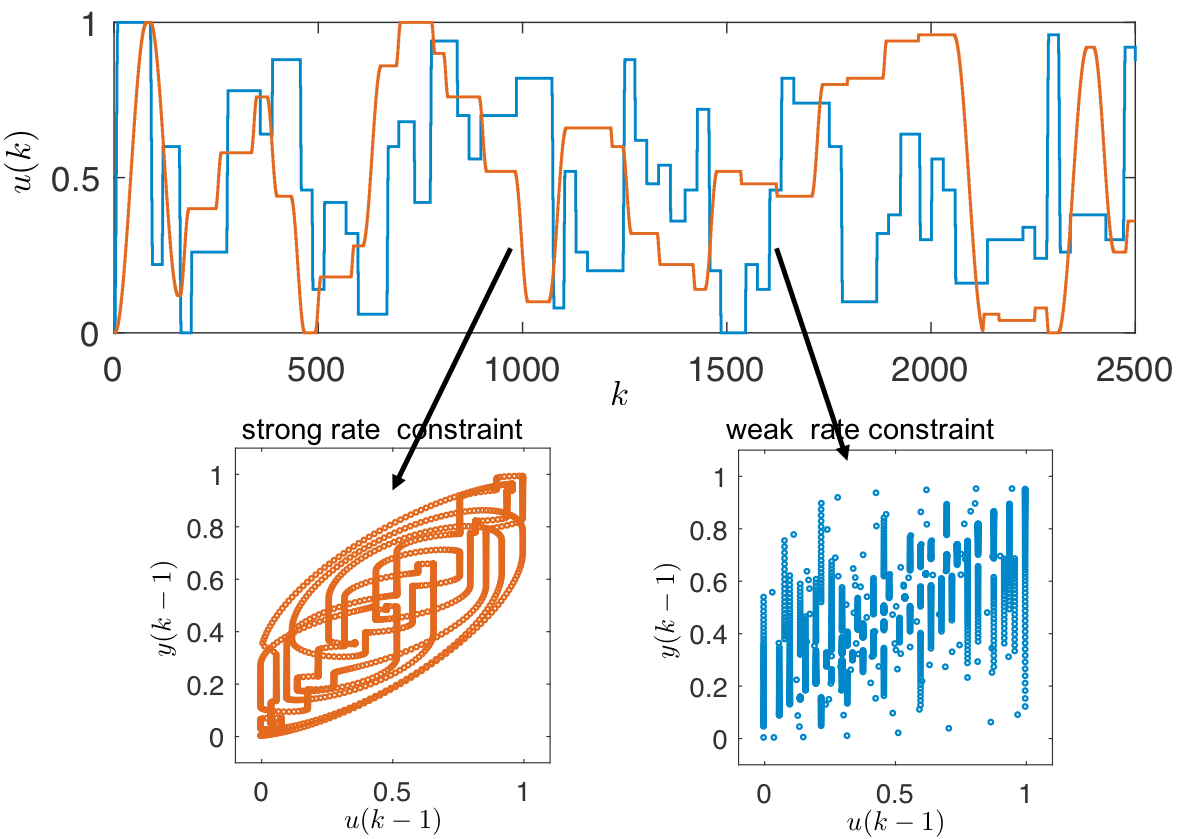 Increasing restrictions:
⇒ Decreasing feasible regions of (pseudo) input space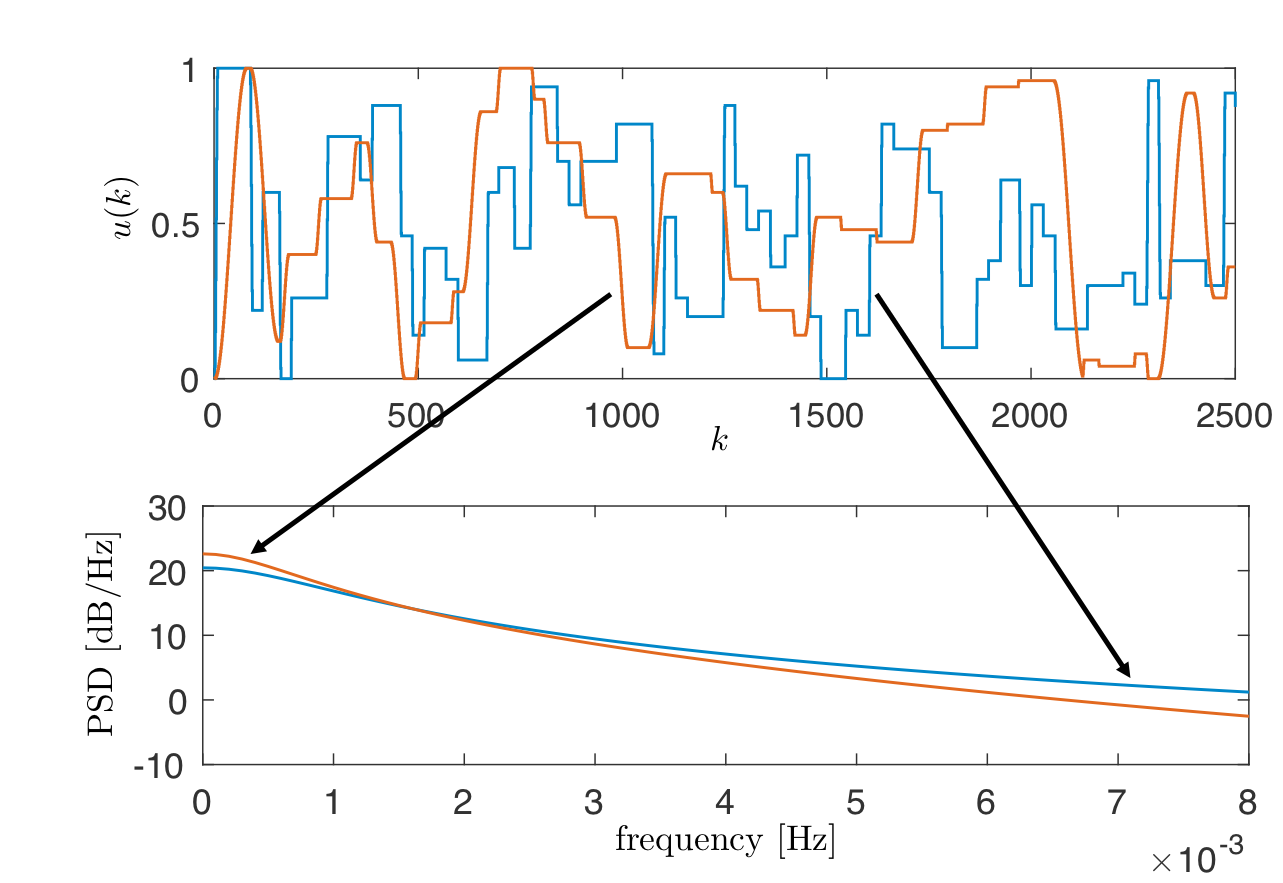 Increasing restrictions:
⇒ Lower frequent signals
Example: The High Pressure Fuel Supply System
Results
Qualitative Analysis – Local Models Networks
Ramp-chirp significantly worse in steady-state regions
- Model simulates negative rail pressure occasionally!
OMNIPUS model fits the test data best
Significant difference between OMNIPUS model and ramp-chirp mode

High differences in error values
OMNIPUS data mostly significantly better

Conclusions
Popular Signal Types
Popular excitation signals for nonlinear identification are analyzed
Input space coverage is discussed
OMNIPUS
Objective is similar to static DoE strategies: Uniform data distribution
Input space established with linear model
Iterative optimization of excitation signal
- Increased robustness due to subsequent 2-dimensional optimizations
Easy implementation of constraints
Results on the High Pressure Fuel Supply System
OMNIPUS covers extreme regions of the input space with data
OMNIPUS reveals infeasible regions of the input space
Ramp-chirp shows dramatically wrong extrapolation behavior