EASITrain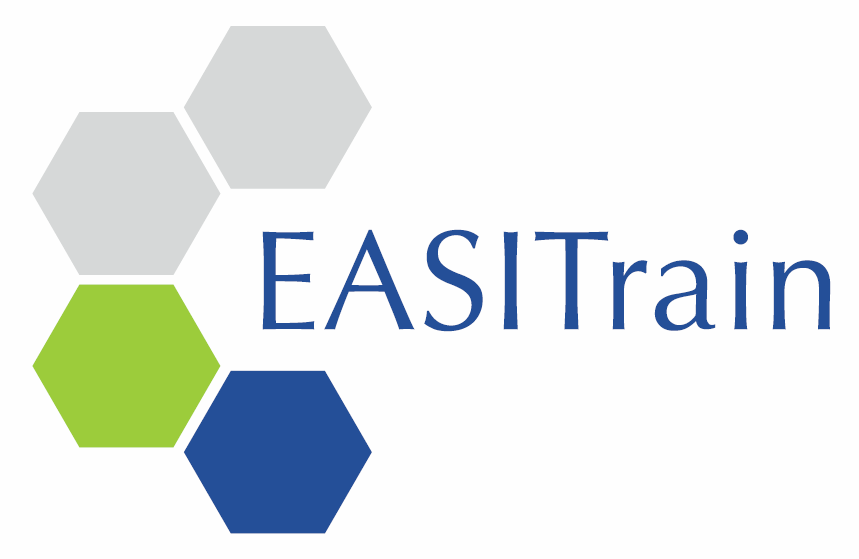 European Advanced Superconductivity Innovation and Training
Horizon 2020
MSCA - Marie Skłodowska-Curie Actions
ITN - Innovative Training Networks
Verbundforschungsprojekt:

CERN - EUROPEAN ORGANIZATION FOR NUCLEAR RESEARCH (Switzerland)
BRUKER - Bruker GmbH (Germany)
CEA - COMMISSARIAT A L ENERGIE ATOMIQUE ET AUX ENERGIES ALTERNATIVES (France)
CNR - Consiglio Nazionale delle Ricerche (Italy)
COLUMBUS - Columbus Superconductors Srl (Italy)
HZB - HELMHOLTZ-ZENTRUM BERLIN FUR MATERIALIEN UND ENERGIE GMBH (Germany)
I-CUBE Research - I-CUBE (France)
INFN - ISTITUTO NAZIONALE DI FISICA NUCLEARE (Italy)
TUD - Technische Universität Dresden (Germany)
TUW - Technische Universität Wien (Austria)
USIEGEN - Universität Siegen (Germany)
USTUTT - Universität Stuttgart (Germany)
WUW - Wirtschaftsuniversität Wien (Austria)
ALAT- Air Liquide (France)
ASG - ASG Superconductors SpA (Italy)
BNG - Babcock Noell GmbH (Germany)
CEMECON - CemeCon AG (Germany)
CRIOTEC - Criotex Impianti s.r.l (Italy)
IEEE - Institute of Electrical and Electronics Engineers (USA)
MAN - MAN Diesel & Turbo Schweiz AG (Switzerland)
TM - Terra Mater (Austria)
RI - Research Instruments Ltd. (Germany)
SIGMAPHI - SigmaPhi Society (France)
UGENOA - Universita degli Studi di Genova (Italy)
Research
The greatest challenges for wide-spread adoption of new applications remain the limited understanding on how to apply the fundamental principles at engineering level and the capability to deploy the technology at large-scale cost-effectively. Science and cross-sectoral training rather than serendipity are the key to unlock the potentials of this alluring technology.
This cross-sectoral training programme is a fine blend of engineering, fundamental research and the development of real-scale applications in close collaboration with industry.
Pervasive deployment of superconductivity is still in its infancy and requires well-trained experts with capabilities to think interdisciplinary and act to transfer knoweldge from the laboratory to our daily lives.
EASITrain initiative aims to train the next generationf of experts and equally important establish a solid education curriculum to exploit the huge transformative potential of superconductivity.
Key research topics include: Advance superconductor wire performance and production, develop industrial production methods for thin films, advance quality of high velocity forming for superconductors, develop energy efficient cooling at large scale and deepend our understanding of the underlying mechanisms and materials
Finally, assess the market potentials of significantly enhanced applications with an aim to contribute towards the goals of energy efficiency and sustainable developments. Some of the possible applications include NMR, neuro-imaging, induction heaters, semiconductor crystal growth magnets while there are numerous opportunities of emerging applications including superconducting fly-wheel energy storage, very high temperature superconducting electronics, ship and aircraft propulsion systems, ultra-wideband and microwave sensing and communications).
Training
The project offers numerous training opportunities and gives access to an existing, well-functioning international network of universities, research centres and for-profit partners that form an ecosystem where new ideas and innovative can flourish:
  Superconducting material characterisation techniques.
  Study innovative high-temperature superconductors and novel materials.
  Superconducting thin film production and coating techniques including surface treatments for industrial applications.
  Superconducting wire design and large-quantity production of high-quality wires. This step could reduce the cost and ensure that the industry could meet future demands of a growing market.
  Efficient cryogenics cooling and the developments of novel refrigeration techniques.
  Identify a portfolio of applications and assess the market opportunity of different applications to fight climate change, increase energy efficiency, and improve health and well-being of people.
The outlined objectives can only be accomplished through a strong collaboration between industry and science. This project therefore joins forces of different science and engineering domains to successfully transfer superconductivity to the commercial sector.
Beyond the formal training to 15 young researchers there will be a number of silo-breaking workshops they explore the valorisation potentials and market entry strategies for emerging applications. EASITrain includes instance courses on project management (year 1), communications, public engagement, entrepreneurship, Intellectual Property Right management (year 2), career management, research grant proposal preparation (year 3) and brings together researchers with top lecturers from industry conveying first-hand experience.
EASITrain provides the framework for academia and industry to develop a durable doctoral study curriculum in applied superconductivity.
Impact
The major scientific achievement of EASITrain will be the visible improvement of superconductor performance, quality and cost effectiveness . The project accelerates the European efforts and identifies opportunities for growth in the high priority areas defined by the EC. It is an excellent example of knowledge transfer from fundamental research to applications in everyday life.
Moreover, EASITrain aims to contribute to the H2020 goals for the development of clean and efficient energy. Performance and efficiency increase in scale production of superconductors can help realizing 10-20 MW wind power generators and smart and high-capacity electricity distribution network. In addition, novel turbo compressors and more efficient refrigeration can contribute reducing the carbon footprint of industries and global transport.
EASITrain will also contribute to another pillar of the H2020 work program related to advanced materials manufacturing and processing. Developing electro-hydroforming and thin-film coating processes for the aerospace and automotive markets and the development of novel superconductors for power grid stabilisation are key goals in the frame of EASITrain. Moreover, applied superconductivity in spectroscopy finds applications both in medical imaging but also in the food industry where it can be used for food safety.
EASITrain, embraces a balanced set of pioneering technologies and interpersonal skills at global level to meet the following goals:
  Create of a web of next generation leading scientists on superconducting technologies acting as links between academia and European industry.
  Stimulate growth and solutions of unanticipated technologies with high impact in energy efficiency, sustainable development and greater resource productivity.
  Develop a lasting European school and doctoral curriculum on superconducting and refrigeration technologies to meet the ever-growing demand for skilled professionals.
  Advance the development of novel processes to produce devices based on cutting edge materials at large-scale.
Results will be disseminated in the form of scientific publications in relevant journals and international conferences while a number of dedicated workshops and public events will take place throughout this program. CERN also organises targeted exhibitions and parliamentary evenings in cooperation with industry associations and international organisations including the United Nations, the World Trade Organization and the World Economic Forum, vibrant members of Geneva International.
Follow the EASITrain website and social media channels and stay informed about upcoming events and latest results.